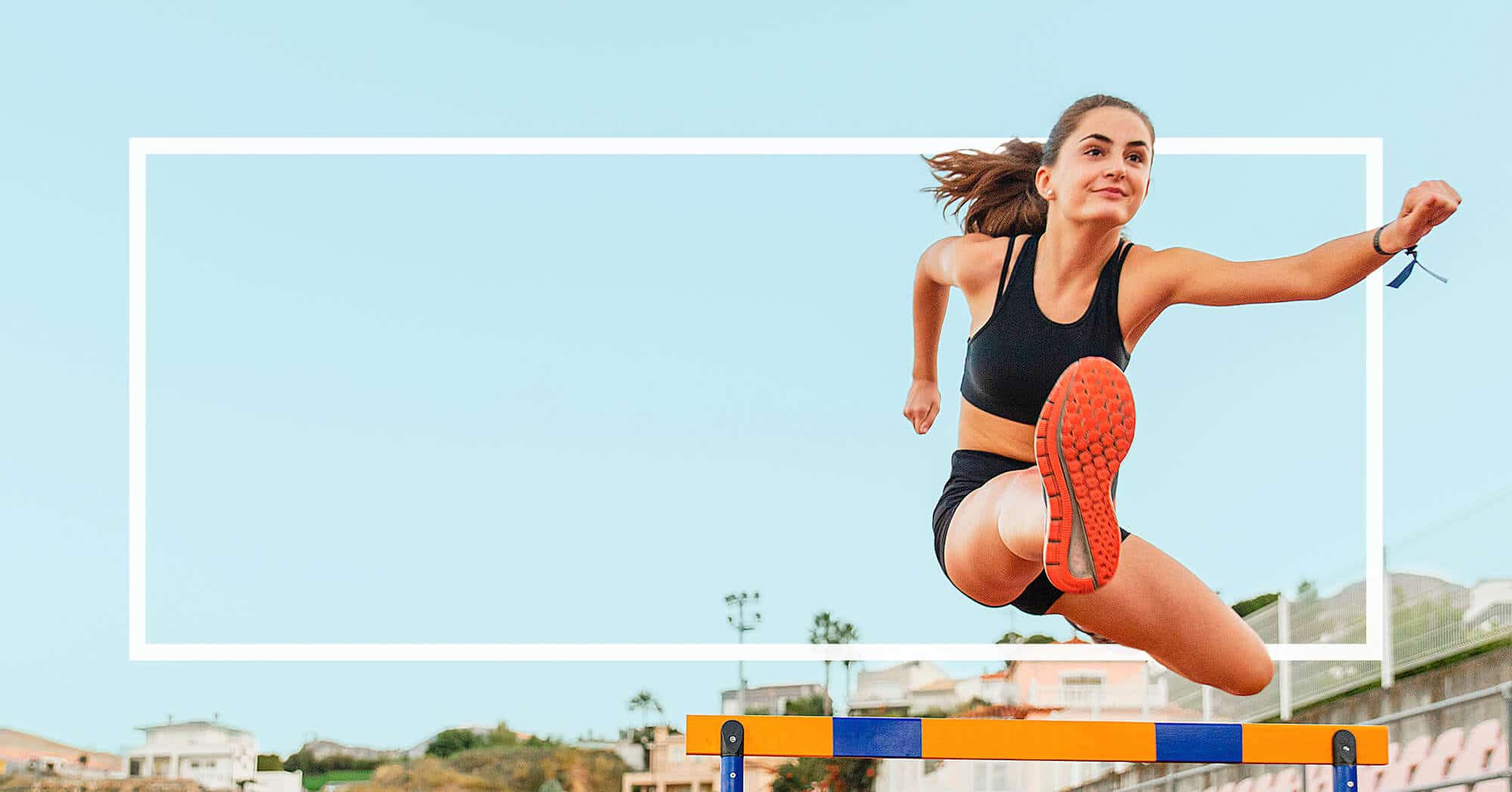 Disclaimer: The following information has not been approved by the FDA. This information should not be interpreted as medical advice and is not a substitute for a visit with a medical care professional. Always speak to your doctor about any health concerns.
Out of everyone that finds themselves affected by chronic pain conditions, athletes may be the ones that feel impact the most. Besides the pain symptoms themselves, chronic pain can impair athletes to the point that they can no longer participate in the activities they love. Whole hobbies, lifestyles, and fitness goals can be lost — and sometimes, alarmingly fast.
Many common types of pain and inflammation conditions become worse with activity (especially repetitive motion), making health issues worse and pain more intense. What choices do athletes have if they want to continue doing sports?
What Are Your Options?
Common pain issues athletes face include epicondylitis, bursitis, torn muscle, strained ligaments, arthritis, a 'bum knee', and more. Relying on pharmaceuticals long term is not an ideal solution, thanks to their numerous side effects and risks. But, what are the CBD oil effects from a chemical point of view? And can athletes actually use it to address different conditions?
Yes, they can! Cannabidiol interacts with our body through the endocannabinoid system (ECS). The ECS naturally produces cannabinoids called endocannabinoids, which bind to nerve cell receptors and control a multitude of natural functions, for instance:
Body temperature

Immune response

The perception of pain

Appetite

Memory

Mood
CBD, and other cannabinoids present in cannabis, mimic the behavior of the endocannabinoids. But, instead of binding, cannabidiol influences their behavior without activating the receptors, potentially producing an enhancing effect on the body.
Unfortunately, the relationship between CBD and the human body is still somewhat of a mystery. And, thanks to ongoing legal battles, conducting in-depth research on humans has not been easy for researchers. However, significant progress has been made in the past few years, and many more in-depth studies are on the way.
Now, you're probably asking yourself…
Can CBD Oil Get You High?
And the clear-cut, definitive answer is a big NO.
CBD is not a psychotropic substance, so it does not cause the hazy-yet-euphoric sensations associated with recreational cannabis consumption. The compound that causes the "high" is tetrahydrocannabinol, often shortened as THC. CBD oil contains 0.3% or less THC, which is 33 times less than the required amount to produce a high. So, rest assured you won't be experiencing any mind-altering effects.
While cannabidiol does not make you "high" a lot of users report a heightened sensation of relaxation. But, that is to be expected, as studies suggest CBD may have antianxiety and antipsychotic properties. You can check out our article on CBD for anxiety here.
Common Problems Athletes Face
Regardless of your sport or activity of choice, suffering a chronic pain condition can prevent you from exercising regularly. Here's a list of the most common chronic pain conditions and injuries athletes of all ages may experience.
Plantar Fasciitis
Affecting as much as 10% of the total population, plantar fasciitis is a painful condition characterized by a stabbing sensation in the heel. This is regarded as the most common reason for heel pain, and it's caused by a strain on the plantar fascia. The plantar fascia is the ligament that connects your heel bone to your toes, and athletes tend to damage it due to their active lifestyle.
Pre-Workout Anxiety
Many athletes that attend their local gym may experience an unpleasant sensation of insecurity before walking in. This is known as pre-workout anxiety and it's actually far more common than you think. (So, if you're someone who feels crazy for being anxious before a workout, now you know you're not alone!)
This feeling of insecurity is extremely common among beginner athletes. Beginners tend to be more self-conscious about their physique and embarrassed that they often don't know how to use machinery or how the training programs work. This can evolve into a full-blown panic attack and affect your overall concentration levels.
Soft Tissue Pain
Tendons, ligaments, and fascia are all soft tissues. Any athletes can tell you, you're going to suffer from soft tissue pain at some point in your athletic journey. Recurring soft tissue damage can result in long-term chronic pain conditions.
Anti-inflammatories are helpful for relieving pain and encouraging a quicker healing time. But we're not talking about over the counter painkillers — we're talking about naturally anti-inflammatory supplements that can offer your body the extra nourishment it needs to reduce inflammation and pain. And a faster healing time means you get back in the gym quicker.
Muscular Injuries
Muscular injuries are the most common type of sports trauma. Muscular injuries are classified into three categories, with the third-degree injury being the most severe. Whether it's a minor injury or a major injury, muscle trauma can hinder an athlete's performance and sideline them for an indefinite period of time.
Poor Eating Habits and Supplement Overtake
Unfortunately, there are athletes that develop poor eating habits or start replacing meals with supplements. This may stem from physical insecurities or lack of motivation. Beyond posing a huge threat to your overall health, following an inappropriate diet can reduce the effectiveness of your workout and your appearance.
CBD for Athletes: What are the benefits?
Before discussing the potential benefits CBD may bring for athletes, it's worth mentioning that there is still a lot of research needed on this compound's usage, and on medicinal forms of cannabis as a whole.
That being said, there's an array of studies indicating that CBD may pose a reliable alternative to chronic pain and other conditions that athletes face regularly. The majority of these have either been conducted outside of the US or on animal subjects. However, even local small-scale independent studies show that cannabis-derived substances, like CBD oil, may pose a safer alternative than narcotics.
Chronic Pain Relief
Studies show that CBD can help relieve chronic pain levels across the board. While some of the studies focused on cancer patients, they found that cannabinoids in general help relieve pain even in non-cancer patients.
The endocannabinoid system, which is in charge of controlling pain receptors among other roles, seems to interact directly with CBD to alleviate different types of pain. Arthritis, fibromyalgia, nerve pain, sciatica, are examples of pain that may slow down an athlete, but may also be reduced by CBD oil.
Muscular Aches
Most athletes, especially those are who in competitive sports, tend to experience muscle aches from pushing themselves too hard. CBD can be used to relieve different types of pain, including muscular injuries.
It's worth noting that topical CBD appears to work best for soft tissue and muscle injuries. This is a great solution for athletes as they often injure a particular muscle or a specific part of their body. You can easily target this area and experience faster pain relief when compared to other forms of CBD.
Anti-Inflammatory Properties
CBD displays anti-inflammatory properties, which may improve recovery time and prevent long-term soft-tissue damage, among other complications. Many healthcare professionals believe that inflammation is the root cause of several common health conditions. Using CBD oil regularly can help reduce inflammation and reduce the impact it has on your body.
Helps Control Anxiety
Anxiety is an extremely common issue that affects people of all ages and genders. Cannabis has been well-known for many years for its relaxing effect. Now, research suggests CBD may actually be a powerful anxiolytic that can help treat social anxiety disorders.
One of the most interesting parts of this study is that brain scans revealed how CBD made subjects react differently to anxiety. At the same time, recent studies also demonstrated how CBD oil has anti-anxiety effects on animals as well.
Mood and Motivation
Pre-workout jitters are just one of the many types of behavioral anxiety disorders that can impact physical performance — and they aren't uncommon. A small-scale study in 2016 indicated that CBD may pose a great alternative to treating mood and anxiety disorders. That being said, the same study also stated that further systematic evaluation is required to truly understand the full impact CBD has on the human body.
How to Use CBD Oil
This cannabis-derived compound is available in several forms. While some of the most popular methods involve vaporizing the oil, you can also choose to ingest it as liquid drops, in pill form, through edibles (gummies), and as a topical cream.
If you are still unclear how to use CBD oil, check out our tips below.
Oral (Drops)

– Place a few drops (3 to 7) under your tongue. This method is great for those who prefer not to take pills, especially when young.

Pills or Edibles

– Swallow your pills with a glass of water and follow the recommended dose OR the dose prescribed by your naturopath. Same rules apply to an edible. Tip: You can make your own edibles by adding a few drops of the oil to whatever you're cooking.

Vaporization

– Involves the use of a vaporizer and CBD oil cartridges.

Topical Cream

– Cream designed to be directly applied to the affected region, a great choice for muscle and soft tissue pain. This is an especially useful choice for athletes!
Figuring Out If CBD Oil is Ideal for You
While cannabis has been used for medicinal purposes for thousands of years, you should always keep in mind that CBD oil and all other extracts are not FDA approved. This means that in the eyes of the law, CBD and other cannabis extracts can't be used to treat, mitigate, diagnose, cure, or prevent any disease.
That said, CBD has helped thousands of people around the world manage their painful symptoms without risking addiction or other adverse side-effects. If you are looking for a viable alternative to traditional pharmaceuticals, CBD may be ideal for you.
CBD oil is legal in Wisconsin, and 45 other states, as well as Puerto Rico. Some states require a prescription from a medical physician (Wisconsin does not). If you're in the Madison area, stop in our store and talk to our Wellness Consultants.
Not in our area? Simply go to your favorite search engine and look for "CBD oil for sale near me". If you're hoping to find CBD oil for sale online, we offer several CBD oil brands in our online store. We're happy to deliver right to your front door!
Where can I find CBD Oil in Madison?
If you are looking to purchase CBD oil in Madison, come down to Apple Wellness and our team of Wellness Consultants will be more than happy to help you. We provide CBD oil, as well as many other natural supplements that help athletes live active lives without having to power through the pain.
Get in touch with us by giving us a call, fill out our online contact form, or simply swing by one of our Madison natural supplement stores and tell us how we can help you!
Let's find your healthy place!
---
*Disclaimer: All information and recommendations given on this site, in email correspondence, newsletters or other materials provided by The Healthy Place is for informational and educational purposes only and should not be construed as medical advice nor be viewed as a substitute for a face-to-face consultation with a healthcare provider. Consult a licensed healthcare practitioner before modifying, stopping, or starting the use of any medications, health programs, diets, and/or supplements, as well as regarding any health concerns you may have. Our statements and information have not been evaluated or approved by the Food and Drug Administration. As with any health-related program, product, or service, your risks and results may vary. We expressly disclaim responsibility to any person or entity for any liability, loss, or damage caused directly or indirectly as a result of the use, application, or interpretation of the information provided to you here."
---
---
Check out our growing library of research studies on CBD oil's benefits.
---